Marketing for Solos is For You...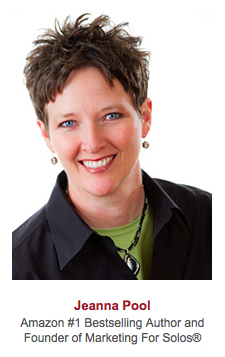 If you're like most solo small business owners, chances are you're fantastic at what you do. But, when it comes to the marketing of those services and attracting clients consistently, you could probably use a little help in that department.
I mean, let's face it, most information available about marketing doesn't easily apply to us solos, who are so busy working with clients, consistent and successful marketing can be a huge challenge.
If that sounds familiar, you've found the solution! Marketing for Solos is an Amazon #1 Bestseller and is must read information if you want better results from ALL of your marketing efforts. That's because the system you'll learn in Marketing for Solos, is a PROVEN system that WILL work for your solo small business!
Whether you've been in business three days, three years or three decades, Marketing For Solos is the book that will give you the know-how you need to confidently and successfully take control of the marketing for your one person small business! And this is the book that will change the way you market your services forever!
But, don't take my word for it...some of the most influential and world renowed marketing experts, such as Jay Conrad Levinson, Dan Kennedy, Bob Bly, C.J. Hayden and others, have praised Marketing for Solos.
Solo business owners don't have time to waste on marketing theory. Jeanna Pool's book gets right to the point, delivering practical, easy-to-follow marketing strategies that really work.

C.J. Hayden
Author of Get Clients Now!
A great book on marketing a small business for those entrepreneurs who don't want a lot of fluff or B.S. It's right on the money.

Dan S. Kennedy
Author of The No B.S. Series of Books, Including: No B.S. Marketing to The Affluent and No B.S. Ruthless Management of People and Profits, www.NoBSBooks.com
This book spells out simple and proven strategies that actually work for small businesses to gain more clients and become much more profitable. In fact, the answer to "What do you do for a living?" found in Chapter 5 is worth 10 times this book's price.

Yanik Silver
Internet Marketing Expert and Creator of Instant Sales Letters
Jeanna has laid out a solid marketing plan that WORKS. Every small business owner and solo-preneur should own and use this book!


Alexandria Brown
Entrepreneur, Marketing Expert, Founder and CEO of Ali International LLC, www.AliBrown.com
It's time to end your marketing struggles once and for all. In Marketing For Solos you'll learn what really works for marketing a solo, one person small business, successfully and effectively. You'll learn how to steer clear of costly mistakes. You'll learn how to make marketing manageable and doable...even in the midst of your very busy schedule. And you'll have all the tools and strategies you'll need for your marketing efforts.
In fact, by the time you finish this entertaining, engaging, and powerful book, you'll know, understand, and have a system (the Marketing for Solos System) to market your solo small business successfully again, and again, and again! If you're struggling with marketing, that struggle ends right here. If you want better results from your marketing, success starts right here. The system you'll learn in Marketing for Solos, WILL work for your solo small business!
Your small business will attract all the clients you want quickly and easily by applying the strategies and principles found in this book.

Bob Bly
Author of Over 70 Books Including: Become A Recognized Authority In Your Field, The Complete Idiot's Guide To Direct Marketing and The Copywriter's Handbook
An indispensable guide to marketing a small business that you'll turn to again and again…grab your highlighter, you'll be marking this one up.

John Jantsch
Author of Duct Tape Marketing and Referral Flood, www.DuctTapeMarketing.com
This book is a great kick in the pants and will jump-start the success of marketing your small business.


Joe Vitale
Marketing Strategist, Speaker and Author of The Attractor Factor and Inspired Marketing, www.MrFire.com
Marketing for Solos is written for YOU...the one-woman or one-man small business, who is running the show and calling the shots. You are the one doing the work for your clients, and while you may have an assistant, or a contractor who helps you, you don't have a large staff of employees to manage. You work with clients one-on-one, either face to face or virtually via email or by phone. Your clients can be just around the corner or across the globe.
You provide services to your clients and the "product" you sell is YOU...and your knowledge and expertise. You may be a life coach, business coach, consultant, author, speaker, trainer, designer, accountant, real estate agent, mortgage broker, travel agent, chiropractor, dentist, massage therapist, photographer, or another type of service based professional. And, you may have heard yourself referred to as a "solopreneur", "solo-professional" or "independent professional." If any or all of this sounds familiar, then you are a solo (a solo small business owner to be exact) and Marketing for Solos is the book for YOU!
If you're comfortable with the technical aspect of your business, but feel totally lost when it comes to marketing your business, then congratulations—you've just found the book that's going to show you the way. Jeanna knows her stuff. Invest in this valuable resource and watch your business and your bottom line thrive.


Bob Burg
Speaker and Author of Endless Referrals, The Go-Giver and Go-Givers Sell More
A handy, concise and wonderful resource on marketing that will serve your solo small business for years to come.


Dr. Ivan Misner
Founder of BNI-Business Network International and Author of Networking Like A Pro and Masters of Success
Avoid costly mistakes in your marketing efforts by studying this gem of a marketing resource!


Al Ries
Co-Author of The Bestselling Books, The Fall of Advertising and The Rise of P.R., Positioning and The 22 Immutable Laws of Branding
Jam-packed with time-tested strategies that really work. Apply them to your small business marketing and profit!

Jay Conrad Levinson
Author of The Bestselling Guerilla Marketing Series of Books, www.GMarketing.com
If you are NOT attracting as many prospects and clients as you want, if you've tried marketing your services, but are less than satisfied with the results, if you want to take your business to the next level of success and profitability and, if you're ready to generate explosive income and dynamic results in your solo small business, then Marketing for Solos is for YOU!
This book is going to change the way you market your solo small business forever and I know you will absolutely love it! But, don't take my word for it. As you have seen and read some of the most influential and world renowed marketing experts have praised Marketing for Solos.
Don't wait! Purchase the Amazon #1 BESTSELLER Marketing for Solos TODAY! Click on the link you see below to go directly to Amazon.com and purchase your copy of Marketing for Solos right now...doing so will be the first step in taking your solo small business to a whole new level of success.
Marketing for Solos Amazon.com Rankings...
#1 in Marketing
#1 in Small Business and Entrepreneurship
#1 in "Hot New Releases"
#2 in Business Management
#2 in "Movers and Shakers"
#4 in Business and Investing
#24 in Overall Sales
Need help marketing your solo small business?
Contact Jeanna by calling 303-380-9100.