Meet Jeanna Pool
Amazon #1 bestselling author and solo small business marketing expert...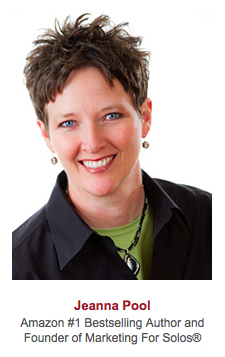 Jeanna is a rare breed, in that she's an expert in both marketing that actually works and design that actually sells...two disciplines and competencies that very, very few can bring together successfully.
Born and raised in Odessa, Texas (she graduated from the same high school featured in the movie Friday Night Lights) she is the only child of two very successful, entrepreneurial parents. Jeanna was conditioned from birth that she, too, would someday own her own solo small business. Forget about her going to Space Camp and eventually becoming an Astronaut, entrepreneur was the life for her.
Jeanna holds a Bachelor of Fine Arts degree in Communication Design with a Minor in Journalism from the University of North Texas in Denton, Texas. Before striking out on her own, she worked as a graphic designer, website designer and marketing specialist for a variety of firms and a variety of clients in a variety of industries...everything from corporate America to non-profits to government.
Some of the companies Jeanna has done work for include: Apple, Motorola, Eli Lilly, Sun Microsystems, Coopers & Lybrand, Up With People, YoungLife, University of Wyoming, Texas A&M University, Pulte Homes and Benjamin Moore Paints.
Today Jeanna owns and operates Marketing for Solos® which is her own, highly successful, award-winning, marketing firm. She's in the trenches day in and day out, putting into action marketing strategies that she preaches about and teaches others to use and apply in their own businesses for success.
Jeanna is the Amazon #1 bestselling author of the book, Marketing for Solos®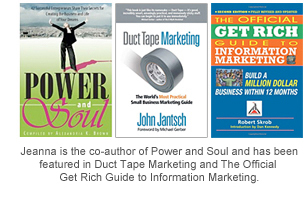 She's also the co-author of Power and Soul and has been featured in the bestselling book Duct Tape Marketing and The Official Get Rich Guide to Information Marketing.
Jeanna is also a sought after speaker and expert, regularly speaking and appearing in radio, TV and printed media outlets around the USA and Canada, where she shares her knowledge and expertise on marketing that works for solo, one man or one woman small business owners.
Jeanna has been called "One of the world's foremost experts on marketing a one person small business successfully."
With Jeanna there's never any fluff or theory to what she teaches and does in regard to marketing. Instead, she focuses only on marketing strategies that actually work in the real world.
Jeanna works exclusively with solo small business owners all across the United States, Canada, Europe, Australia and around the world…helping them with online marketing and offline marketing that actually works, gets results and dramatically increases the profits and income for her clients! All of Jeanna's clients have one thing in common—they're really good at what they do, but sometimes really struggle to market their services successfully and attract clients consistently.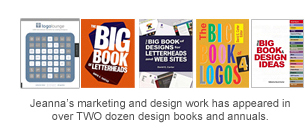 One of Jeanna's greatest strengths is her ability to motivate and lead people to become the very best version of themselves. She strives to be the very best in everything she does and her contagious personality motivates her clients and others to do the same.
Jeanna's love and passion is helping other solo small business owners be as outrageously successful as they possibly can be. Her no-nonsense, straightforward, passionate, motivational, fun-loving personality shines through in all of the marketing coaching, mentoring, training and work she does for her clients.

I am very happy that I chose Jeanna to help me market Klasse! She is a HUGE reason for our fast success! We are now up to 30-40 inquires each month. Our growth and rental inquiries are continuing exponentially and I can't wait to see what happens the longer Jeanna works her magic for us.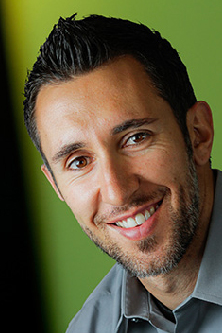 "Klasse Auto Rentals is a brand new business that I started as a natural fit and "next step" to my other business Avalon Motorsports, which is a German automotive repair shop in Denver.
With that company (Avalon Motorsports) we piecemealed the marketing components together and although it was successful, the fact that Jeanna executes an all-encompassing marketing program, including SEO, social media, video, lead generation, and many other elements of a full online marketing plan, for making Klasse the best and #1 in our niche was very attractive.
I knew that going into the highly competitive car rental market would be a risk and the competition would be fierce. Especially when I have to compete against the multi-million dollar "big box" and franchised rental car companies everyone is familiar with and that you see at the airport.

So I knew that I had to do things different and hire the right company to help me get this new company off to a fast start. That right company and person is Jeanna and her team.
As I mentioned earlier, the fact that Jeanna offers a done-for-you, all-encompassing marketing program, was a big reason for choosing her. But there are several other reasons why I chose her: Jeanna had such high success with her #1 bestselling book "Marketing for Solos" and her own small business is very successful too. Those were both big factors in my decision.
The price of her program was right too. The price, while not cheap, is very affordable and a great value and investment considering the amount of work Jeanna does for us and the results she has helped us achieve. Plus, I knew that many people search and book rental cars online and that the internet numbers would be higher with this company, so again the fee was a no-brainer.
After hearing and reading testimonials from other clients who have had great success with her services, and all of the other factors I just talked about, "sold me" and I decided Jeanna and was the absolute right choice and best person to hire for marketing this new business.
I am very happy that I chose Jeanna to help me market Klasse! She is a HUGE reason for our fast success! Within the first six months of launching my business and hiring Jeanna, we were getting 7-8 email inquires per week. And again, that was just in the first six months of a brand new business no one had ever heard of.
We are now up to 30-40 inquires each and every single month! This number was way beyond our projections or our goals. So, in our first year of business, we were "in the black" and profitable! How often can a brand new business say that? That's a huge testament to Jeanna and that the work she does works.
I understand the power of a good marketing plan because of the success I've had with my first business (Avalon Motorsports). With that in mind, I had to employ everything I've learned when starting this new business. I chose Jeanna because I firmly believed she has what it takes to adequately meet all of my marketing needs and she has proven that.
With Jeanna, all of my marketing is kept under one roof, with one fixed monthly cost. I get monthly reports of her work and this gives me a great deal of confidence because I see in black and white what's working. There is no guesswork with Jeanna. Couple that with the strategic marketing plan she does for us and Jeanna has fulfilled the ultra A-type personality I have.
Based on the few months of my experience and how successful our new business has grown in a short amount of time, I am very pleased and recommend her for your marketing and your business. Our growth and rental inquiries are continuing exponentially and I can't wait to see what happens the longer Jeanna works her magic for us."
Brian Sump
Owner of Klasse Auto Rentals
Denver, Colorado
For fun, Jeanna loves to travel and has visited many incredible cities across the globe. She's also a big movie lover and a huge sports fan (of course being from West Texas, football is high on the list, but soccer is her absolute favorite sport).
Something not too many people know about Jeanna is, she's a black belt in Taekwon-Do and a two-time USA National Team Member. She won Gold Medals in Sparring, Patterns and Breaking at the 2001 USTF National Championships and has competed in two ITF International World Championships (Argentina in 1999 and Italy in 2001). Jeanna also won a Bronze Medal in Women's Team Power Breaking at the 1999 ITF International World Championships in Buenos Aries, Argentina.
Jeanna can help you and your solo small business…
Attract more clients on a consistent basis, stand out from the crowd and be seen as the absolute best choice to hire versus your competition! Jeanna offers a wide variety of products, training programs, coaching, mentoring and completely done-for-you services (to fit many different budgets) that will help you market your solo small business successfully.